QUICKEST INSTALLATION. EASIEST OPERATION.
MEET THE MOST COST-EFFECTIVE PALLETIZING SOLUTION
Standardized Palletizing Solutions
Designed to cater to the specific requirements of palletizing, you can rest easy knowing that installing and operating the Robotiq Palletizing Solution comes with minimal risk. Our solutions are built on best practices and have been tested extensively, ensuring reliability and a quick return on investment.

The palletizing solution is designed to make automation accessible. No matter your robotics expertise, you can confidently take ownership of your robot.
Get in touch with our team of experts now to kickstart your project.
Compact
Fit within your existing floor plan, eliminating the need for reorganization.
User-Friendly
Allow all user types to operate with ease and confidence.
scalable
Adapt to variable product lines and future-proof operations.
Standardized
Built on best practices and tested extensively ensuring reliability.
SAFE
Designed with safety in mind and built to work alongside humans.
SAVVY
Optimize robot movements without the need for programming.
TURNKEY
Streamline the implementation process and start working immediately.
HASSLE-FREE
Integrate seamlessly on existing systems without extensive conversion work.
WHICH SOLUTION IS RIGHT FOR YOU?
Choosing the right solution requires consideration of factors such as daily palletization volume, production line capacity, case weights, pallet heights, and available space. Robotiq provides a range of palletizing solutions, ensuring there is an option that meets your requirements.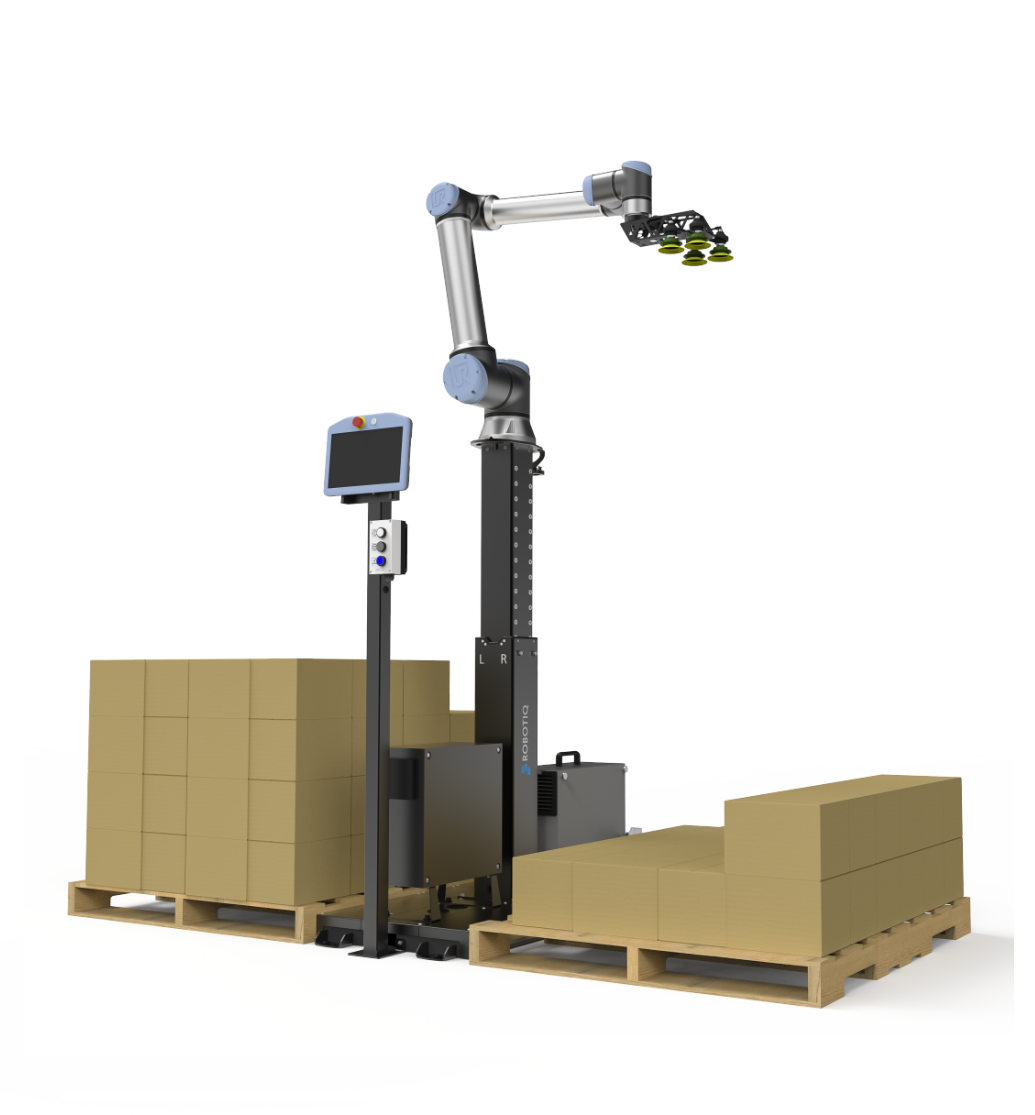 PE10
Lifting Capacity ⎸ Up to 11,5 kg (25 lb)
Stacking Height ⎸ Up to 1550 mm (60 in)
Cycling Time ⎸ Up to 13 picks/min

Ideal for light loads and small footprint pallets.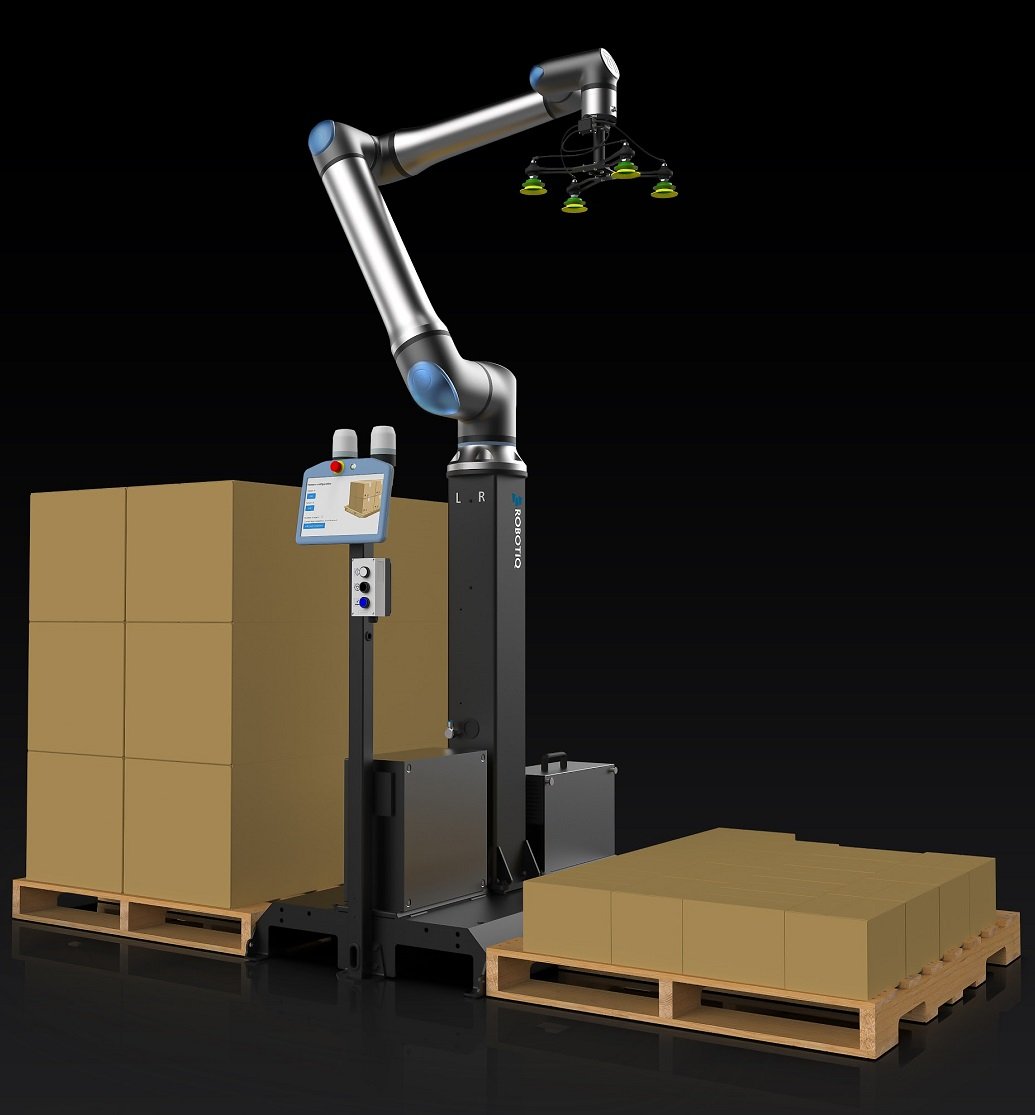 PE20

NEW
Lifting Capacity ⎸ Up to 18 kg (40 lb)
Stacking Height ⎸ Up to 2150 mm (84 in)
Cycling Time ⎸ Up to 13 picks/min

Ideal for heavier loads and moderate pallet heights.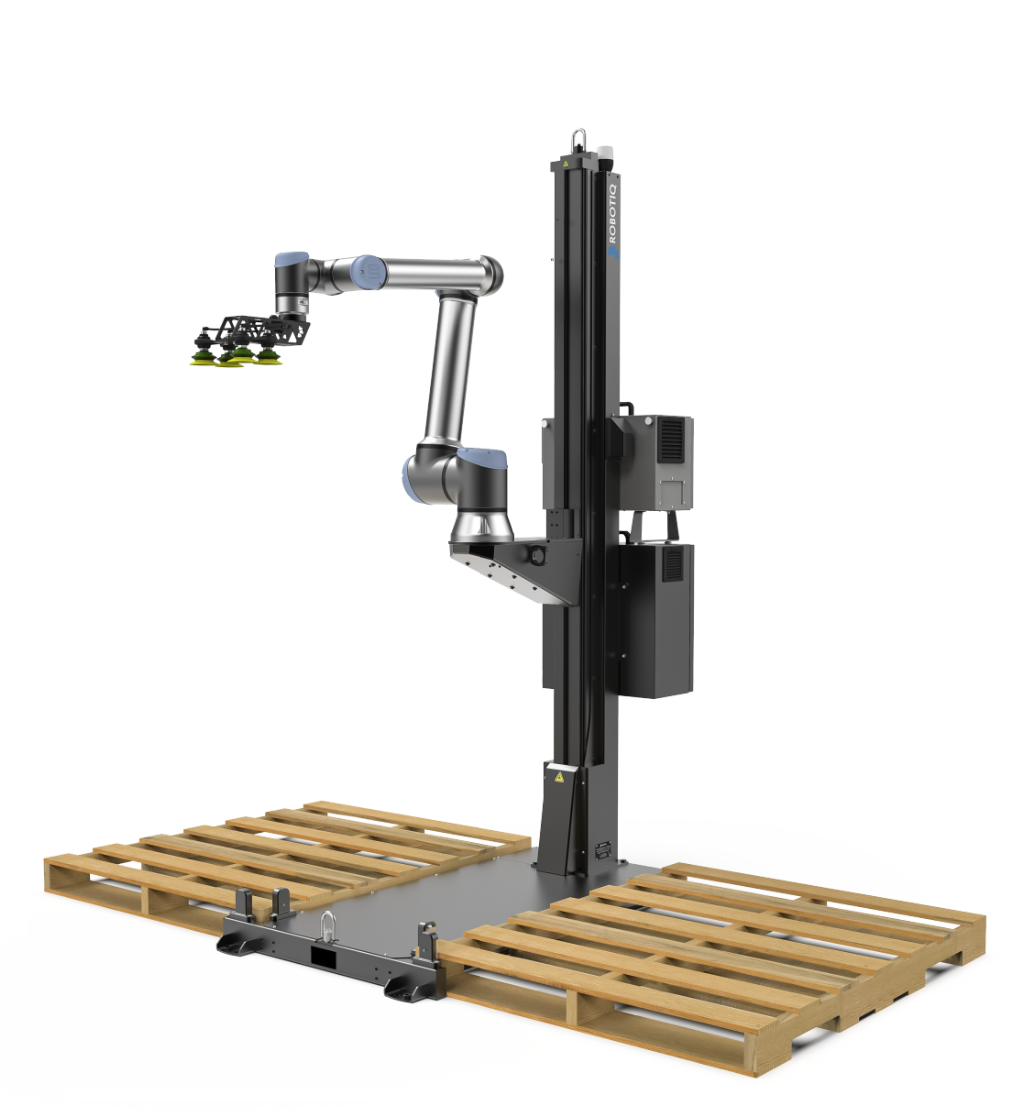 AX10
Lifting Capacity ⎸ Up to 11,5 kg (25 lb)
Stacking Height ⎸ Up to 2750 mm (108 in)
Cycling Time ⎸ Up to 13 picks/min

Ideal for handling a wide variety of pallet heights and light loads.

#1 Box SPECIFICATIONS
Enter your cases dimensions and weight. Set label orientation if necessary.

#2 Pallet dimensions
Select your pallet depth and width. Our solution solution can handle all the ISO standards.

#
3 Pallet configuration
Create your pallet to automatically generate and optimize trajectories and robot movements.
WITNESS how easy it is. ask our team of expert for a tour.
"If I was to go back in time to give myself some advice, I'd say 'Do it sooner.' Sure, there are upfront costs, but it's easily justifiable and it's very beneficial to the business and people."
"The ROI was a slam dunk from the beginning, from how much labor it saved. The installation process was the smoothest install of any piece of equipment I have had to experience in 28 years."
"Just do it. Don't wait. The time you're taking to think about whether or not you can do it is lost time. As soon as you do it, the robot earns money. You don't need to think. You can do it."
"With Robotiq, it's all about reliability and effectiveness."
"The traditional robot is on a different price level. And the collaborative ones, no one did for us what Robotiq has done. Because for every Robotiq robot, we would have needed two of the others."

"It changed my life! I'm able to move around and check my bags, and help with the computer. By the time I'm done, my stacking is done too."